State-of-the-art Healthcare NLP
John Snow Labs is emerging as the clear industry leader for state-of-the-art NLP in healthcare.
We cannot recommend a better way to apply the most current, accurate, and scalable technology to your natural language understanding challenges today.
By all accounts, John Snow Labs has created the most accurate software in history to extract facts from unstructured text.
Make 4-6X Fewer Errors than AWS,
Azure, or GCP
De-Identification
Algorithms
Information Extraction
Document Classification
Entity Disambiguation
Contextual Parsing
Patient Risk Scoring
Clinical Grammar
Deep Sentence Detector
Medical Spell Checking
Medical Part of Speech
Terminology Mapping
Entity Linking
Suspect diabetes
SNOMED-CT:
473127005
Lisinopril 10 MG
RxNorm:
316151
Hyponatremia
ICD-10:
E87.1
Question Answering
Algorithms
Data Obfuscation
Name Consistency
Gender Consistency
Age Group Consistency
Format Consistency
Zero-Shot Learning
Entities by Prompt
Relations by Prompt
Classification by Prompt
Relative Data Extraction
Assertion Status
Fever and sore throat
PRESENT
Father with Alzheimer
FAMILY
Summarization
Content
Medical
Language Models
BioGPTBioBERTJSL-BERTJSL-sBERTClinicalBERTGloVe-MedT5Flan-T5
Relation Extraction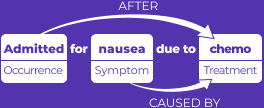 Data Enrichment
Content
Medical
Terminologies
SNOMED-CTCPTUMLSICD-10-CMRxNormHPOICD-10-PCSICD-OLOINC
1,000+ Pretrained Models
Clinical Text
Signs, Symptoms, Treatments, Findings, Procedures, Drugs, Tests, Labs, Vitals, Sections, Adverse Effects, Risk Factors, Anatomy, Social Determinants, Vaccines, Demographics, Sensitive Data
Biomedical Text
Clinical Trial Design, Protocols, Objectives, Results; Research Summary & Outcomes; Organs, Cell Lines, Organisms, Tissues, Genes, Variants, Expressions, Chemicals, Phenotypes, Proteins, Pathogens
Trainable & Tunable
Scalable to a Cluster
Fast Inference
Hardware Optimized
Community
Spark NLP for Healthcare in action
Clinical Entity Recognition
Clinical Entity Linking
Assertion Status
De-Identification
Proven success across healthcare