Watch the webinar
Accurate De-Identification of Structured & Unstructured Medical Data at Scale
Recent advances in deep learning enable automated de-identification of medical data to approach the accuracy achievable via manual effort. This includes accurate detection & obfuscation of patient names, doctor names, locations, organizations, and dates from unstructured documents – or accurate detection of column names & values in structured tables. This webinar explains:
What's required to de-identify medical records under the US HIPAA privacy rule
Typical de-identification use cases, for structured and unstructured data
How to implement de-identification of these use cases using Spark NLP for Healthcare
After the webinar, you will understand how to de-identify data automatically, accurately, and at scale, for the most common scenarios.
About the speaker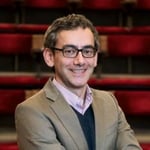 Julio Bonis
Data scientist
Julio Bonis is a data scientist working on Spark NLP for Healthcare at John Snow Labs. Julio has broad experience in software development and design of complex data products within the scope of Real World Evidence (RWE) and Natural Language Processing (NLP). He also has substantial clinical and management experience – including entrepreneurship and Medical Affairs. Julio is a medical doctor specialized in Family Medicine (registered GP), has an Executive MBA – IESE, an MSc in Bioinformatics, and an MSc in Epidemiology.